Light and Shadows
Artist: Raul Isidro
Date: 2016-03-16
Venue: Galleria Nicolas, Glorietta 4
---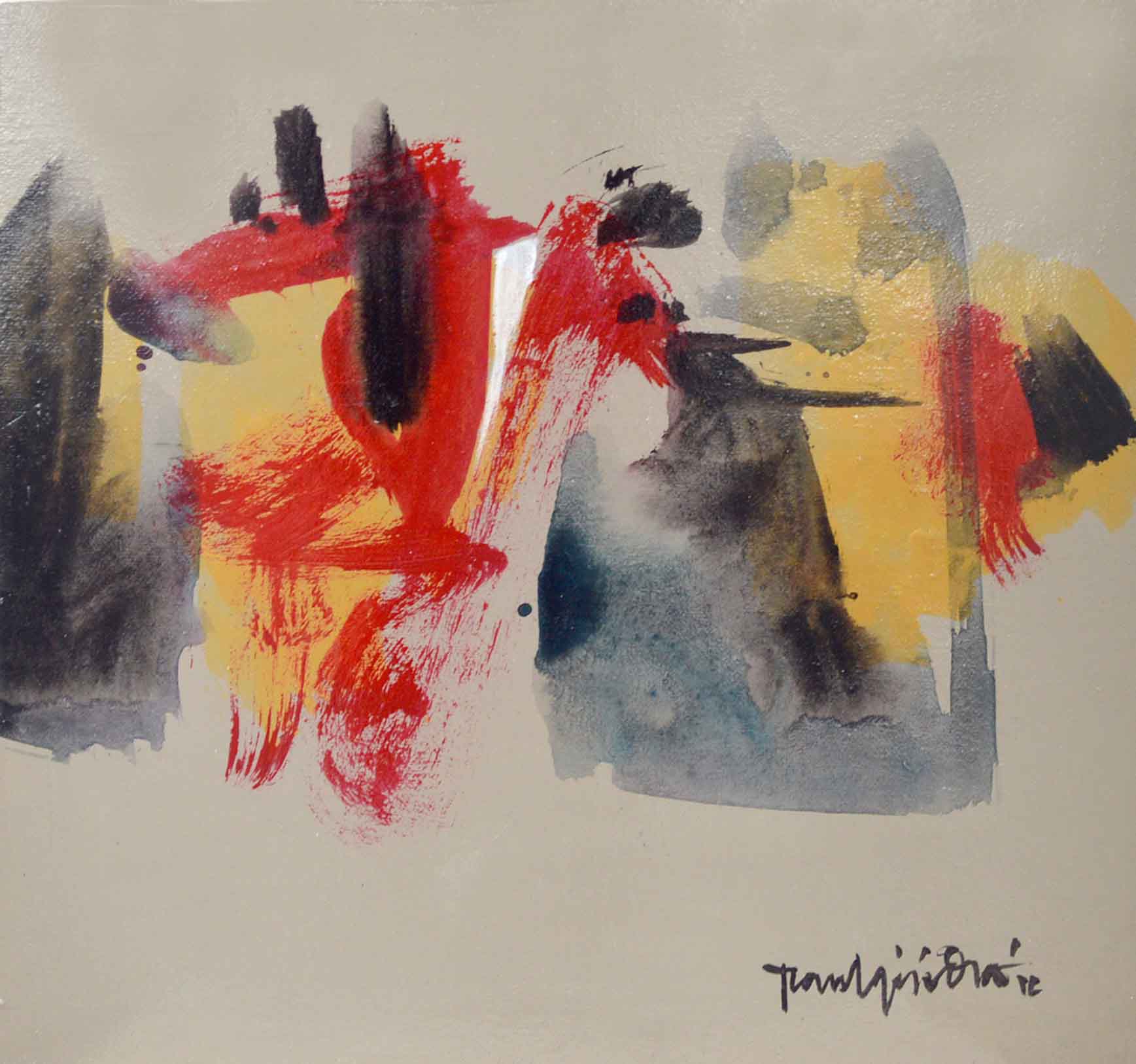 Raul Isidro's "Light and Shadows" opens at Galleria Nicolas on March 16
Art is a kind of language, used to communicate complex ideas in visual manner. In this way, abstraction reveals a highly nuanced mind that has moved beyond the mere mimicking of reality. When Plato wrote about form, he used the allegory of the cave to demonstrate his point—that the reality we experience are but shadows of perfect forms that exist beyond our level of comprehension. Abstractionists seek to distill the visual reality into a similarly pure form, condensing and deconstructing figurations until what remains is their essence characterized by lines, shapes, and colors.
Perhaps there is no truer proponent of the power of abstraction than Modernist Raul Isidro. Emerging from the formative years of the Late Modernism period in the 1970's, Isidro's pioneering print and painting practices used abstracted form to express that boisterous period of Philippine art history. Today, this is reflected in his ability to arrange order from chaos, manifesting works that bridge the discourses of Modernism between the immediate postwar period and the contemporary.
"It is funny because in those days, they said that if you were painting abstract forms it meant you couldn't draw," said Isidro of his roots and the nature of abstraction. "But there was something about jumping shapes, from squares, to circles, to rectangles, that is really more honest."
Raul Isidro re-navigates the concept of abstraction for his next one-man exhibition at Galleria Nicolas, entitled "Light and Shadows." The exhibit opens on Wednesday, 16 March 2016 and runs until March 31 at Galleria Nicolas in Ayala Center, Makati City. Galleria Nicolas is located at the 3/F Art Space of Glorietta 4, Ayala Center, Makati City. They may be reached through their landline at (632) 625-0273, or email at info@gallerianicolas.com.
Raul Isidro (b. 1943) is a native of Calbayog in Samar. He is a product of the Fine Arts program of the University of Santo Tomas, where he finished with a degree in Advertising. At UST during the period was National Artist Victorio Edades, regarded as the leading advocate of Modernism in the country. It is not surprising that among Isidro during his time at UST were other stalwarts of the Late Modernist period, including sculptors Ramon Orlina and Eduardo Castrillo.
Isidro first exhibited at Solidaridad Bookstore's Gallery in 1969, at the invitation of National Artist for Literature and Solidaridad owner F. Sionil Jose and has had over 50 solo shows since then. From this first show, the foundations of Isidro's practice were laid, and he soon became known as a formidable abstractionist, eventually garnering multiple awards such as inclusion in 1979's group of Ten Outstanding Young Men (TOYM), and the Outstanding Thomasian Award in 2006--an honor he shares with Ramon Orlina. He also won the Cultural Grant Award from the Australian government in 1981 and was a 1st prize awardee at the Printmakers Association of the Philippines Annual competition in 1972. It was also in 1972 that Isidro began what eventually became a long association with the Fine Arts program of the Philippine Women's University (PWU), where he nurtured the department which was founded by pioneering printmaker Manuel Rodriguez Sr. Through his tenure at PWU, where he eventually became Director of the College of Fine Arts in 1975, Isidro became heavily involved in printmaking--which also served to enhance his approach to painting. His two mediums served to complement each other in ways that were, at times, revolutionary.
Isidro is known for being dedicated to abstraction as a purist of the aesthetics, which he has always regarded as the highest form of painting. "I was looking for symbols that I could use as themes," the artist told art critic Leo Banesa in 1980. And Isidro uses the depth of abstraction to demonstrate these themes.
These new works give the public a chance to experience the practice of one of the most recognized abstractionists in Philippine art history, as well as educate themselves in the meaning of abstraction. Through his formidable skill and vision, Raul Isidro's practice stands the test of time.
---
Paintings
A PHP Error was encountered
Severity: Notice
Message: Undefined variable: show_paintings
Filename: template/modals.php
Line Number: 100
Backtrace:
File: /home3/nicolas/public_html/application/views/template/modals.php
Line: 100
Function: _error_handler
File: /home3/nicolas/public_html/application/controllers/Home.php
Line: 43
Function: view
File: /home3/nicolas/public_html/index.php
Line: 292
Function: require_once
A PHP Error was encountered
Severity: Warning
Message: Invalid argument supplied for foreach()
Filename: template/modals.php
Line Number: 100
Backtrace:
File: /home3/nicolas/public_html/application/views/template/modals.php
Line: 100
Function: _error_handler
File: /home3/nicolas/public_html/application/controllers/Home.php
Line: 43
Function: view
File: /home3/nicolas/public_html/index.php
Line: 292
Function: require_once